SPECTATORS
Ticket Prices
| | |
| --- | --- |
| Adult Admission | $10.00 |
| Children Under 13 | FREE |
Gate Opening Times
| | |
| --- | --- |
| Gates Open | 6:00PM |
| Racing | 7:00PM |
COMPETITORS
Entry Cost
| | |
| --- | --- |
| Driver | $40.00 |
| Passenger | $40.00 |
| ANDRA Divisional Drag License (if non ANDRA license holder) | $5.00 |
| HVDRA Member Discount | $5.00 |
| Pit Crew | $10.00 |
Gate Opening Times
| | |
| --- | --- |
| Gates Open | 6:00PM |
| Scrutineering | 6:00PM - 8:00PM |
| Drivers Briefing | 6:45PM |
| Racing | 7:00PM til LATE |
| Burnouts | 9:00PM |
PERFECT REACTION CHALLENGE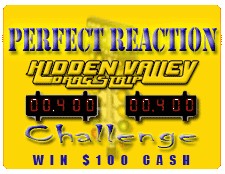 WIN $100 CASH AT EVERY OFF STREET MEET IN THE PERFECT REACTION CHALLENGE
Each meet Hidden Valley will be giving away $100 in the Perfect Reaction Challenge. The Winner will receive $100 in CASH.
Oh....and did we mention the JACKPOT? Yes that's right, if no perfect reaction time is recorded the Jackpot goes up by $100 each meet until it is won!
The rules are as follows:
The competition is run at all Off Street events
In the event of two perfect reaction times being achieved the first recorded gets the cash.
The Jackpot increases every meeting by $100 until a perfect reaction time is recorded.
The Jackpot then will be reset at $100 for the following meet.
Only one prize per competitor per meet.
The Jackpot resets at the start of every season.
HOGS BREATH MINI ELIMINATOR
Do you want to take on The Heat? Do you want to try dial-in handicap racing and get your face on TV? Get into the Hogs Breath Mini Eliminator! Just see the Bracket Marshal at the event and line up to go dial-in racing to win some awesome prizes.
BURNOUTS
Skids, skids and more skids! Get onto the all new Colosseum and let loose with some tyre frying burnouts at every Beat the Heat Off Street event. Check out BURNOUTS for more info
PASSENGERS
In a strategy to deliver additional safe, controlled options to dangerous practices on public roads, and to widen the already exciting off-street experience, ANDRA has worked with the Australian Drag Racing Promoters Association to introduce single passengers in some cars at off-street events.
Single passengers will be permitted in cars racing in paired runs at designated off-street events. Check out OFF STREET PASSENGERS for more info
GENERAL COMPETITOR INFO
Be sure to check out all the Off Street info including FAQ's, Passenger details, What to do and a Guide to Dial-in Racing under the Off Street menu
Car with 4 wheel disc brakes and airbags (slower than 10.99 sec)
Car WITHOUT 4 wheel disc brakes and airbags (slower than 11.99 sec)
helmet to Standard
long sleeve shirt
long pants
covered shoes & socks
Car WITHOUT 4 wheel disc brakes and airbags (11.00 - 11.99 sec)
As per ANDRA Super Street Class Requirements
Motorcycle (slower than 9.99 sec)
helmet to standard
leather jacket or equivalent (Kevlar)
long pants
full leather boots extending 275mm from the base of the heel
full leather gloves
Other Information
Helmet Requirements - refer to Approved Helmets
Seat belt requirement for street registered cars slower than 10.99 MINIMUM three point lap/sash required
Purpose built race vehicles, cars quicker than 11.00 and motorcycles quicker than 10.00 must comply with the relevant ANDRA Class and Safety regulations pertaining to the vehicle