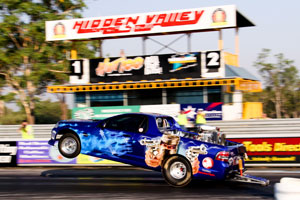 The 2012 NT Quarter Mile Titles Presented by 7mate is just around the corner and one person eager to get on track is Nigel Benson in the Aussie Bandit Wheel Stander.
After enjoying his time in Darwin in 2010, Benson is set to try and put down his first full track pass on only two wheels at the new Hidden Valley facility.
"The Aussie Bandit was a hit with families when he farewelled the old strip in 2010 and we're sure to see even faster passes on the new surface" explained Hidden Valley Drag Racing Association President, Jay Jukes.
Benson is no stranger to Hidden valley where he has also campaigned a HQ Holden in the Touring Car Masters at the recent round of the V8 supercar series. But the Aussie Bandit has over triple the horsepower to play with.
The custom airbrushed Holden VE ute sports a 1700hp supercharged V8 that is rear mounted in the utes tray.
Benson will be on track at Hidden Valley Drag Strip from 7pm on Friday 13th July and from 6pm on Saturday 14th July.
2012 NT Quarter Mile Titles
13 - 14 July 2012
Qualifying & $5000 D&M Burnout Competition
Friday 13 July from 7pm
Feature Racing
Saturday 14 July from 6pm
Adults Friday Qualifying - $15
Adults Saturday Feature - $25
Family Friday Qualifying - $30
Family Saturday Feature - $50
Children under 13 free