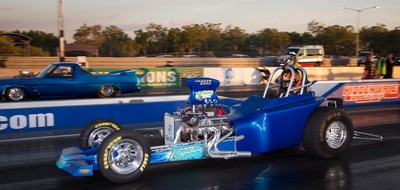 A hotly contested Round 4 of the Track Championship Series was seen at Hidden Valley Drag Strip on Saturday night where for the first time this season Dieter Herrmann was knocked off the first place podium.
In a small Outlaw field Herrmann met Grant Radcliffe in the finals. Only new to the bracket, Radcliffe showed fine form beating Herrmann off the line with a winning 0.038 second reaction time. It was enough to maintain the lead throughout the run, finishing with an 8.54 second pass on an 8.50 second dialin.
Super Sedan was also drama setting with Des Groves only just able to make the finals after suffering a flat tyre. Some hurried repairs saw him accept the tree but the win went to Wayne Harris with a 10.505 second pass on a 10.22 dialin.
A myriad of false starts saw three finals all decided by red lights. Colin Sainsbury took out the automatic win against Heath Costello in Modified Bike while Brandt McGlade defeated Darren Savage in Street Bike.
Street Car also had a red light win with Greg Reed victorious over Ellen Musk. It is enough to allow Reed to jump 10 points ahead in the series point score but with 3 rounds still in the season Musk is still in with a chance take out her rookie year.
Alvaro Decastro took out his first time win in Super Street with a 12.727 on a 12.60 dialin. His better reaction dispatched rival Troy McGregor who could not recover.
Super Toyworld Junior Dragsters saw the return of Jodie Coles to the first place position running an 8.727sec pass on an 8.50 dialin, while Maddison Sperrer was close behind with an 8.801 on an 8.5 dialin.
In the exhibition category Scott MacLean piloted his recently acquired Top Alcohol Funny Car to a 5.966 pass at 243mph. With plenty more in the car MacLean is still getting used to the different driving style compared to his Top Doorslammer.
Abel continued his testing regime in the 57 Chev while long time Outlaw driver Peter Coles stepped into a new 1968 Camaro. Unfortunately Coles came to grief at the turn around point damaging the front end of his new car. There were no injuries but it is going to be a lot of sleepless nights to get the Camaro back together with plans already underway to have it turned around in time for Slamfest.
The next round of the Track Championship Series will be hosted at Slamfest 2012 on Friday and Saturday 17-18 August.