Perfect Reaction Challenge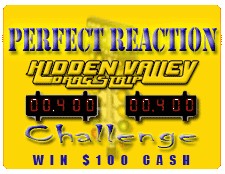 WIN $100 CASHÂ AT EVERYÂ OFF STREET MEET IN THE PERFECT REACTION CHALLENGE
Each meet Hidden Valley will be giving away $100 in the Perfect Reaction Challenge. The Winner will receive $100 in CASH.
Oh....and did we mention the JACKPOT? Yes that's right, if no perfect reaction time is recorded the Jackpot goes up by $100 each meet until it is won!
The rules are as follows:
 
The competition is run at all Off Street events
In the event of two perfect reaction times being achieved the first recorded gets the cash.
The Jackpot increases every meeting by $100 until a perfect reaction time is recorded.
The Jackpot then will be reset at $100 for the following meet.
Only one prize per competitor per meet.
The Jackpot resets at the start of every season.