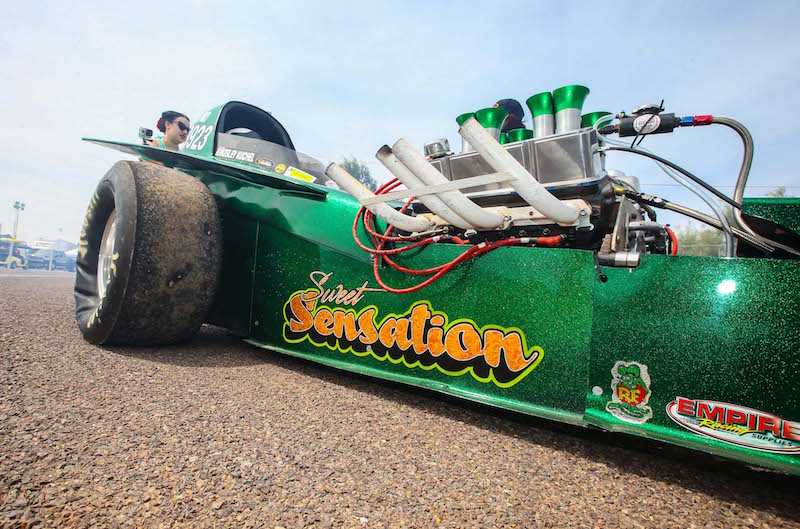 It's far from wet season in the Northern Territory, but one drag racer will be aiming to break a two decade drought when he competes at Nitro Up North on July 21 and 22 at Hidden Valley Drag Strip.
Victoria's Kingsley Kuchel brings an old school family flavour to the event, racing a classic Modified-division dragster, with alien styling cues and plenty of horsepower up front.
With plenty of experience racing on drag strips around the country, Kuchel said one of the great things about the Modified class was that anyone could be a winner – and that suit him perfectly as he is still searching for an elusive first victory.
"After 20 years a win is still missing from my racing," he said. "I've had many runner ups but not the win. Even though I'm relatively young, I'm a pure old school racer. I have been able to match it with the best but just need an event where it all comes together."
Kuchel is famous for his dragster's retro look, using a nostalgic front engine chassis, mechanical fuel injection and an open helmet combined with a nitro face mask that used to be used by the bravest drivers in the sport.
"We have one of the most unique looking dragsters in Australia. It has a one piece aluminium buddy made over the roll cage area that was made by my father and I."
Joining him in the journey towards the equator will be son Nathaniel, who will make his race debut in the Junior Dragster bracket on the big Nitro Up North stage.
"This is my boy Nathaniel's first comp meeting after only getting his licence at the end of last season, so what better way to start his racing life off than Nitro Up North?
"For him it's all about the experience of his first comp meet and making new friends."
The attraction of Nitro Up North for Kuchel was being able to tie in some family travel alongside competing at one of Australia's premier drag racing events.
"Since having a family we have never really been on a holiday," Kuchel explained. "We have three children ranging in age from 8 to 4 years, so after seeing the fun time everyone was having at last year's event my wife and myself decided that this would be a great trip to make, where we can have a holiday and race at the same time.
"We have never been to Darwin so will be a great experience for us all. We are planning on going to see crocs, maybe some fishing and plan on visiting some springs and gorges.
"Everyone in Darwin should make sure they come out and have a look. The best thing about drag racing is it's so diverse and there is something for everyone."
Kuchel will be competing in the opening round of the Summit Sportsman Series' national 2017/18 season, which will be joined by the first round of the 400 Thunder Professional Drag Racing Series including 500kmh Top Fuel nitro dragsters and Pro Slammers.
Spectator tickets are now available online, or from Redline Plumbing in Darwin. Tickets will also be available at the gate.
Entries are still open for the event, racers can click here to enter. Remember for all your Nitro Up North information, be sure to check out nitroupnorth.com.au.